This fine photograph is of Sharpsburg survivor William Anderson Trayler (left), late Private, 13th Georgia Infantry, and his second son, Benjamin Franklin Trayler (1868-1958) many years after the war, probably about 1910.
Here's another of William, with his youngest son Will Anderson Trayler (1874-1947) and grandson Will, Jr (1910-1998), taken about 1920.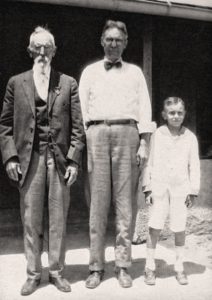 Both of these family heirlooms were shared to his Findagrave memorial by Judy Trayler Howe in 2021.