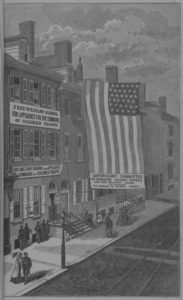 Antietam veteran Private John Savin Appleton was a student at the Free Military School for Applicants for Command of Colored Troops at 1210 Chestnut Street, Philadelphia, PA in the summer of 1864, and afterward passed an examination by a board of officers in Washington, DC and was commissioned 2nd Lieutenant in the 31st United States Colored Troops.
The school was established in December 1863 to help alleviate a shortage of qualified officers for newly organizing USCT regiments and was run by Colonel John H Taggart, late of the 12th Pennsylvania Reserves. Lieutenant Appleton was one of more than one thousand successful graduates before the school closed at the end of 1864.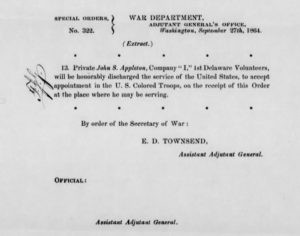 For much more about the history of the school, sponsored by the Philadelphia Supervisory Committee for Recruiting Colored Regiments, see Frederick M Binder's Philadelphia's Free Military School from the journal Pennsylvania History (October 1950) [Article PDF], online from the Pennsylvania State University.
_____________
The image at the top is from the frontpiece of the 2nd edition of a pamphlet produced by the school as a recruiting tool; a digital copy is online from the Internet Archive.
Appleton's 1864 orders are from his Compiled Service Records, online from fold3.
You should see what 1210 Chestnut Street looks like today [Dec 2022].