I recently tweeted about adding a new bio page for a Georgia soldier, Andrew W Poarch and, somewhat as an aside, noted that his modern headstone has some problems.
He was buried at Mt. Olivet Cemetery in Frederick, MD in October 1862 and at some point given a basic headstone, now heavily worn.
Much more recently, I'd guess in the 1980s or 90s, well-meaning persons got him a new headstone from the US Department of Veterans Affairs (VA).
Probably because of transcription errors in his original burial records, they got his name terribly wrong. Apparently the applicant didn't dig any deeper – like into his service records, rolls, or family genealogies to verify his information. Although, to be fair, it's much easier to do that today than it was 30 or 40 years ago.
But now the errors are literally carved in stone.
I've seen dozens of markers like these with errors large and small over the years of researching my soldiers, but had not thought to make a list or keep a log of them.
The day after Private Poarch's, though, I found another such case – the stone for Louisianan Volney L. Farnham at Elmwood in Shepherdstown, WV. It has his first initial/name and his regiment wrong.
And this afternoon a third popped-up: Private William T. Curry of South Carolina. This is his modern VA marker in Dials Cemetery, Gray Court, SC. Minor things, to be sure, but his middle initial and his year of birth are probably wrong.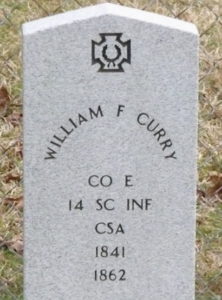 So taking these 3 stones as huge cosmic hints, I'm starting a visual list here, and I'll add to it as I find more. I can't fix them, but I can provide a virtual erratum.
Let me know if you find any more cases like these, won't you? Or if you have any information that corrects errors I've made.
_____________
Gravestone pictures via Findagrave.
_____________
[Eleven] additions after the break …
Another Mt. Olivet stone: This one's for W.P. Hamby, who was mortally wounded on South Mountain and died in Frederick. He was probably a Sergeant, and, more certainly, in Company C of the 22nd South Carolina Infantry rather then a Private in K of the 27th.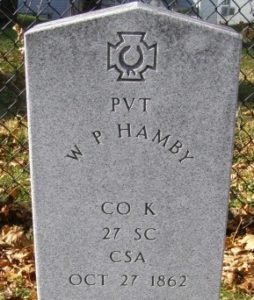 Mt. Olivet again. The man buried here was Solomon Turbeville, Jr., about 18 years old when he was mortally wounded at Sharpsburg. His new stone missed his first name and added a letter to his last name.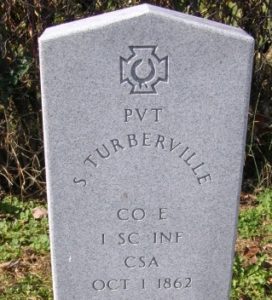 Another resident of Confederate Row at Mt. Olivet: here's the final resting place of Private Benjamin D. Anderson, mortally wounded at Turner's Gap on South Mountain. He was probably not a Lieutenant, didn't spell his first name Benjamen, and his middle initial was not J.
Also at Mt. Olivet. This stone is for 20 year old Louisianan Private Amos K. Anselm. He was wounded by a gunshot at Sharpsburg and died two months later in a Frederick hospital of the wound and gangrene. The stone has his last name twisted up a little.
I'm not sure who this next man was, but I'm fairly certain he didn't die on 12 October 1862.
There were at least 7 Reeves/Reaves in the 27th Georgia, but none listed as Robert. The only one of the 7 not accounted for was Patrick – listed only as killed in battle – so he could be our man. Or not. Our Reeves could have been in another unit, but I've had no luck finding him. I have a page for him as Robert until I can do better. Here's his new headstone at Mt. Olivet:
The Frederick hospital records (which have him as Robert) say he died of gangrene infection from his wound on 21 May 1863. If you look closely, that looks like the date on his original, or at least much older stone, which is immediately in front of his new one. It seems a shame not to have used that as a reference or at least a hint.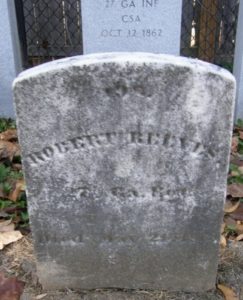 This next one's a little fuzzier, because I don't have a strong ID, but I think he's F.M. McKown of the 15th South Carolina. This is his stone on Confederate Row in Mt. Olivet, Frederick, MD.
I say fuzzy because I only have his name from the State Roll and the CSR Index.  McCowan comes from his Federal hospital records. I do know that McKowns were common in the Union District before the war which is why I'm agreeing with the Roll/CSRs, I just don't know which McKown he was.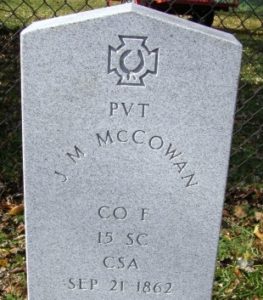 Buried under this Mt. Olivet stone is John Francis Boles, a Private in Company K, 48th North Carolina Infantry. He took a gunshot to the chest at Sharpsburg and died in a Federal hospital in Frederick.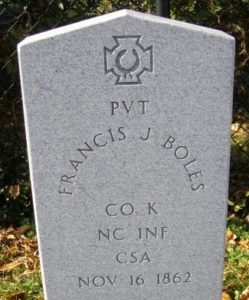 What are the problems with his modern stone? His first name and middle initial have been reversed and his regiment is not identified. Sad, again, because both of those things are correct on his older stone just in front.  Jno. = John, in case you're not familiar with that abbreviation.
This Mt. Olivet marker is for Richard M. Brown of the 2nd South Carolina Cavalry. He was probably 2nd Corporal of Company C when he was mortally wounded in a skirmish in Frederick on 14 September. He died in a Federal hospital on 7 November. This stone has him as a Private in Company B of the 2nd SC Infantry.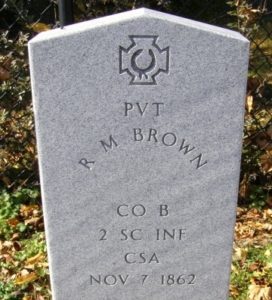 His old stone is slightly off on his first initial and death date, but got his regiment right: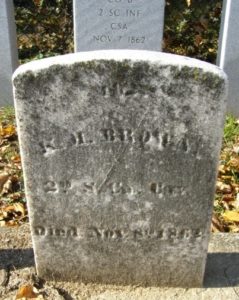 Here's a different kind of problem, though it's in Mt. Olivet in Frederick, again.
Lieutenant Colonel Thomas Crispen Watkins was commanding the 22nd South Carolina Infantry when he was mortally wounded in the head at Turner's Gap on South Mountain. He died in Frederick on 26 September. A Confederate officer, obviously.
His newer government stone, however, is in the Federal or Union style. You'll notice how it differs from all the other Confederate stones above. Puzzling.
Next to Colonel Watkins' stone is this one, somewhat famous for the unusual name of Raisin Pitts carved on it. It probably marks the burial place of Lieutenant Drayton Pitts of Company F of the 6th Alabama. I guess if you slur Drayton it might sound like raisin. Or maybe it was an obscure nickname?
In addition to incorrect name, rank, and Company, this stone has the Union-style round-top shape (although without the shield), not like the typical Confederate pointed ones.
Here's the Mt. Olivet marker for Private Joseph Jernigan of Company K, First (Hagood's) South Carolina Infantry. Not Company F of the 20th Infantry, which was in Charleston, SC until the Spring of 1864.