Harley Tuttle McKay was a 27 year old shoemaker in 1861 when he left his wife and two year old son and enlisted in the Sons of '76 – Company H of the 26th Alabama Infantry regiment.
On 14 September 1862 near Turner's Gap on South Mountain he was seriously wounded in the leg by a "bombshell. Soon afterward his leg was amputated and he was sent home to Marion County, Alabama on furlough. In April 1863 he was detailed from his Company to Columbus, Mississippi to use his skills as a shoemaker for the Confederacy. He was there for at least a year, but I have no further military information for him after April 1864.
After the war he was a shoemaker and farmer, and probably a preacher; in his native county to about 1880, then in Texas. He lived to be 84 years old.
Although his life story is not especially noteworthy for a Civil War soldier, the way it became tangled with another McKay's after his death is very interesting. And, for a researcher like myself, also very confusing. I'm not certain I've sorted it out, even now. See what you make of it …
The issues first jumped out at me through a couple of cemetery markers.
At the top is the government stone his second son James Gordon McKay (1862-1953) requested from the US War Department in December 1838, 20 years after his death. It sits over him today in a cemetery in Ellis County, TX.
Below it is a flat Veterans Administration (VA) marker placed, I would guess more recently, near the burial place of Henry Taylor McKay (1849-1939) in Clay County, AL.
Here's James McKay's application for that upright government stone for his father: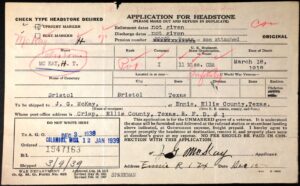 I've found no evidence that Harley was ever in a Mississippi regiment, but it's possible. Perhaps he enlisted in the 11th Mississippi in some capacity after April 1864 in Columbus, though this seems unlikely, first because he was missing a leg, but also because the regiment was with the Army of Northern Virginia, far from Mississippi.
In any case, I'm confident that the man buried there was our Harley, and he was wounded at Turner's Gap with the 26th Alabama Infantry in 1862.
The other marker, though, looks like a case of mistaken identity.
It's pure speculation, but I think someone found "H.T. McKay" in military records for the 26th Alabama and made the connection, incorrectly, with Henry Turner McKay. In addition to the stone, that connection is also perpetuated in print in the caption for this photograph of Henry and his wife: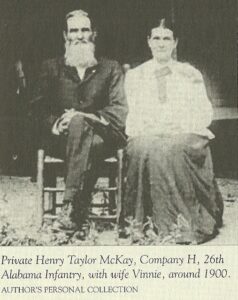 There's plenty of evidence that the H.T. McKay in Company H of the 26th was Harley Tuttle. And there are a couple of things about Henry Taylor that make him less likely to be our man.
The first is his age. He was 12 years old in September 1862. Although there were soldiers that young, it was rare.
The second is that he seems to have had both of his legs in 1900. It's possible that he was wearing an artificial leg under his suit, but most legless veterans didn't.
I'm still looking into these men and would welcome any new information you might have that would shed light on them.
___________
Notes:
Harley's gravestone photograph by Patsy Patterson (2004) is from his Findagrave memorial. The application for that stone found in an Ancestry.com database.
Henry's government marker was photographed by William Brown (2007), and the book page was contributed by Rick Calvert in 2011, both on his Findagrave memorial.
I don't yet know the title or author of the book from which that photo of Henry and his wife came. My initial inquiry came back negative.