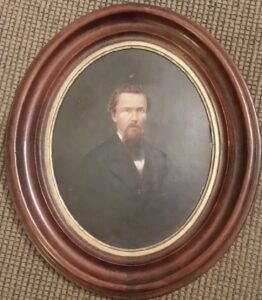 Arthur C Ford was the son of an English Army surgeon, was educated in London, and studied dentistry in New York in 1857. He was a dentist practicing in Louisville, GA when he enlisted as Corporal in Company C of the 20th Georgia Infantry in June 1861. He was repeatedly promoted, lastly to First Lieutenant of his Company in August 1862. He was wounded and disabled at Sharpsburg in September.
He was a prominent dentist in Atlanta after the war and took recent dental school graduate John Henry "Doc" Holliday into his practice briefly in 1872. Ford died of tuberculosis at age 51 in 1883 – the same thing that eventually killed Doc Holliday in 1887.
This post-war painted portrait of Ford is from Robert Wayne Elliott's collection, hosted online by John Banks (scroll to bottom).