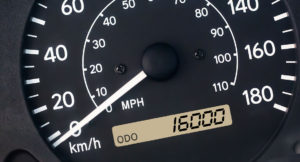 I am pleased to report that I've just added the 16,000th person to the Antietam on the Web (AotW) database. There's much more to the AotW website than people, of course, but they're what keep me going at it year in and year out.
16,000 is a nice round number and perhaps large enough to be statistically interesting. It also marks a good point to stop and take stock.  To that end I've built some simple charts of summary data about all those people …  
read the rest of this entry »
I've added a new tool on AotW: an interactive tree diagram display for the Orders of Battle (OOB) of each of the main armies in Maryland. You can click any "node" (dot) on the diagram to drill down further into an Army Corps/Wing, Division, or Brigade at Sharpsburg. Each of the unit names is also a link to a page with more information about it.
I hope this new way of looking at the command organizations will be useful. I find the trees are a lot of fun to play with, too.  Here's a sample of what they look like: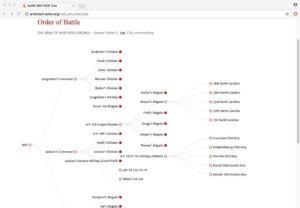 Give 'em a try and let me know what you think! Start at the main OOB page and look for the tree symbol.
Antietam on the Web was a bit overdue for an overhaul: some of the PHP code had been deprecated (gone obsolete), much of the HTML was clumsy and likewise obsolete, and the site navigation didn't make it easy to find the information on the site. Most of the navigation dated from 2005, and even the newest PHP and HTML code was last updated in 2010.
So I re-wrote and re-organized the whole thing.
The content is now gathered into big clusters for people (soldiers & units), places (maps), events (narrative),  and features (special projects).  I hope you'll find it easier and more intuitive to use. It'll certainly run more efficiently and be easier for me to maintain.
Here's a quick visual comparison, new vs. previous home page design.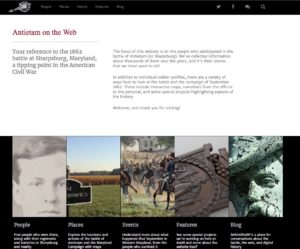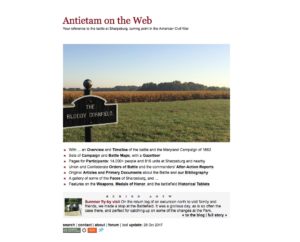 I'd love to hear how it works for you.