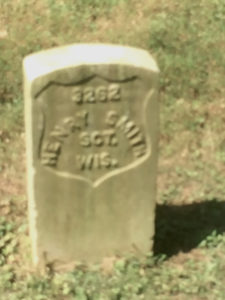 That's the stone in the Antietam National Cemetery under which Sergeant Henry Smith of Company K, 2nd United States Infantry is likely buried.
The Cemetery History says he's Sgt. Henry Smith of Company K, 2nd Wisconsin Infantry, and "Wis." is written on the headstone. There are no certainties in these matters, but I'm fairly sure that's wrong.
There is no Sergeant Henry Smith in the State roster for Company K (or any Company) of the 2nd Wisconsin. There were two Henry Smiths in the regiment, neither a casualty at Antietam: one, in Co. K, transferred out to the heavy artillery in December 1861 and mustered out in 1865; the other, of Co. H, lived to 1918 and is buried in Oregon.
But there are pretty good enlistment and medical records for Sergeant Henry Smith of the 2nd US who was wounded at Antietam. By way of example, here the entry for him in the Medical and Surgical History of the War of the Rebellion (MSHWR, 1870).

___________
The headstone photograph was contributed to his memorial on Findagrave by Sandy Boyd.
The History of Antietam National Cemetery (1869) is online in an excellent exhibit from WHILBR – by the Western Maryland Regional Library. The image here is of page 164.
The MSHWR is online from the National Library of Medicine at NIH in Bethesda, MD. The image above is from Volume 2, Part 3, page 535.