Late First Sergeant John D. Murray, Company F, 4th Texas Infantry – a Sharpsburg survivor. This photograph, considerably post war, is from J.B. Polley's Hood's Texas Brigade, Its Marches, Its Battles, Its Achievements (1910) [online from the Internet Archive].
Here's his youngest brother, James C. Murray, also in Company F. He was unhurt at Sharpsburg, but killed by "friendly fire" at Little Round Top, Gettysburg, PA on 2 July 1863. His picture from Polley's A Soldier's Letters to Charming Nellie (opp. pg. 134, 1908).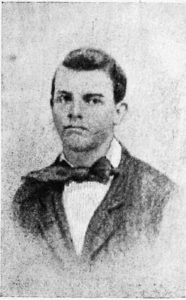 The third Murray in Company F was Robert W. Murray. He was wounded at Sharpsburg in 1862 and again in the Wilderness in 1864 – losing his leg to amputation – but survived the war. He died in San Antonio in 1938 about two weeks after his 100th birthday. His post-war picture is also from Polley's Letters.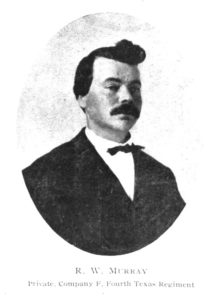 Oldest of the 4 Murray boys, Asa W. Murray (1833-1917) had service in Company K, 8th Texas Infantry. He's here with his family about 1883, from a family genealogist on RootsWeb.