Benjamin Franklin Guest was at least 55 years old when he was killed in the battle at Sharpsburg in September 1862; a Private in Company F, 53rd Georgia Infantry.
His is indeed a hard-luck story.
Family history, supported by the US Census, says he lost his Madison County, GA farm and his family due to his drinking, and by 1860 was living alone, an overseer on a farm in Griffin, Spalding County, GA. In May 1862 he signed-up as a substitute for one R.A. McDonald (possibly Robert Alexander McDonald, 1831-1904) of Company F.
The family story says he was killed by a "sniper" on 16 September at Sharpsburg, which is somewhat unlikely, as the 53rd Georgia and the rest of the Brigade arrived at Sharpsburg from Harpers Ferry at sunrise on the 17th. His very brief military record says he was killed on 17 September.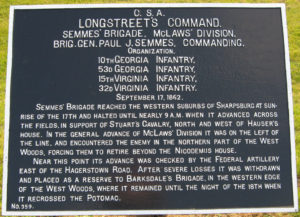 I don't have a birth year for every soldier killed at Sharpsburg, but among those I do have, Guest is the 2nd oldest. The oldest being Private Adam Burkel of the 11th Pennsylvania Infantry – who was about 57 years old at Antietam.
———————–
The photograph of Semmes' Brigade's battlefield tablet was taken by Craig Swain for the Historical Marker Database (HMDB).