I chanced yesterday upon another of those people doing great history online.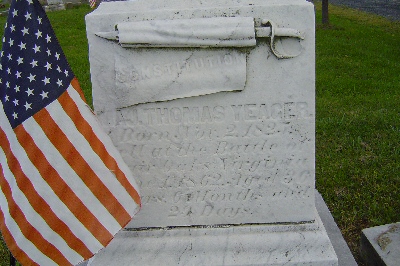 stone of Major Thomas Yeager, 25th & 53rd PA Infantry (photo: E. Carr)
Low profile, but not to be missed is the work Everette Carr is doing–and blogging–on behalf of the Union and West End Cemetery of Allentown, Pennsylvania. I really appreciate the perspective and insight to be gained learning about an individual at War, and Mr. Carr does a very nice job of presenting some interesting people. A fine example of digital history 'rubber' hitting the road, as he blogs about his charges.
Typical of his nicely written posts are biographical tidbits for members of several local military units, including the 'First Defenders', 5th Militia, and 128th Pennsylvania Infantry–rookies at Antietam. He has also put up excerpts from the wartime Allentown Democrat newspaper, for additional color and flavor.
Thanks to Everette for his hard work both on the cemetery and the history, and for sharing the results. I look forward to reading more.