This is a picture taken June 6, 1936 in the cemetary at Winchester on decoration day.
I [George Dellinger] am in uniform X. The other one is Daniel Miller, a Confederate vet,
now in his 100th year. I am in my 92nd year (from the back of the photo)
George Dellinger, formerly of Company D, 23rd Virginia Cavalry, sent this photograph to the Hagerstown (Md.) Historical Society in response to a US Antietam Celebration Commission questionnaire. The Commission organized the commemoration of the 75th anniversary of that momentous battle at Sharpsburg, Maryland on 17 September 1937, and had canvassed surviving Civil War veterans for their memories and present circumstances.
This and other photos, along with letters of reply from many of the veterans, are now online at one of two new exhibits created by the folks at the Western Maryland Historical Library.
A particularly nice example is the following letter from New Yorker Casper Wallace:
My Dear Sir.

I am in receipt of your communications of March 20th and thank you for it, and will be glad to do anything I can to aid you in your Laudable endeavor, unfortuneately however I was a Prisoner of War at the time the Battle of Antietam was fought.

I was one of the 13000 captured at Harpers Ferry a few days before the Battle was fought, and Paroled on the ground, we witnessed Stonewall Jackons Army Marching through Harpers Ferry, over the Road down the Shenandoah Valley. My Regiment, (the 111th New York Infantry) had been in Harpers Ferry only a few days. in fact had just been outfitted with Uniforms Guns and other necessarys for a Soldier when the last of Jacksons Army had passed over the Bridge across the Potomac, We took up the march in the opposite direction for Anapolis, and on to Chicago Parole Camp.(Camp Douglas )

We could hear the Guns faintly at Antietam, while on our march. We were confined at Camp Douglas for (9) nine weeks, when we were exchanged and went to Washington …

I will not bore you with more of my Army life farther than to say I participated in all the battles of the army of the Potomac that the 2nd Corps did from Gettysburg to Appomatox. Wounded at Gettysburg slightly, never sick a single day in the three years, always with my Regiment, enlisted as a private at the age of 15 and a half. and at the age of 18 and four months Sargeant Major of my Regiment. and this day the 23d of March 1937 I am 90 years and three months of age, I'm very good physical health.

I have written a long letter for me. and I hope I have not bored you with my clumsy narrative, I would like to join you on the occasion of your Celebration. but fear I will be unable to.

In conclusion let me say that I have visited the Battle Field of Antietam in 1911 and 1912 I was stationed at Newport News VA, supervising the building of two submarine boats for the government and I drove from there to Bridgeport and passed through the Antietam after Dark. Against the horizon I saw monuments and was sure it was Antietam. I drove to Hagerstown where I spent the night, and in the morning drove back and spent the morning going over the field, trusting you will overlook errors and mistakes or change them to the penalties of old age!

I am very cordially yours.
C. D. Wallace.
111 Reg't NY Vol. Infantry
The second exhibit from WHILBR is a collection of clippings and other ephemera from a scrapbook compiled after the 1937 Battle Anniversary celebration by the Hagerstown Chamber of Commerce. Among these are the Hagerstown Morning Herald's coverage of President Roosevelt at Sharpsburg.

President Roosevelt arriving to speak at the 75th anniversary commemoration of the Battle of Antietam at Antietam yesterday about noon. With him are Senators Radcliffe and Tydings of Maryland. The President delivered an address after greeting veterans of the North and South who were grouped on the stand. He left immediately after his address for Washington. (click picture for more of the news page)

Another gem is this picture of Miss Antietam, Julia Brandt, and her entourage posing on a B&O Railroad locomotive at the fairgrounds, site of the "On Wings of Time" Pageant.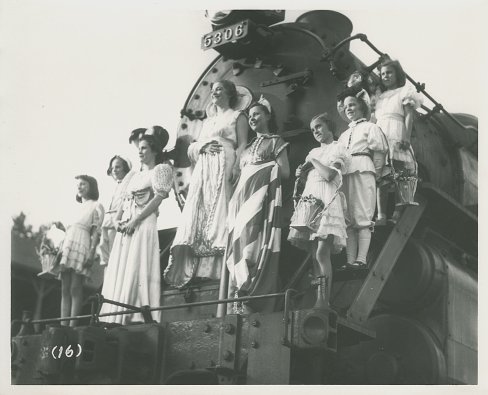 There's much more. Go see for yourself.
Thanks to the Western Maryland Public Libraries for putting up some fascinating collections, and to Jill Craig for letting me know about them. They're doing some marvelous work in digitizing and displaying a wealth of local history and deserve our support.