Like most Civil War bloggers, I get occasional requests to promote/review books or other works. Most are simply advertising and, unless very closely related to the combat at Sharpsburg in 1862, not usually right for this space.
But I got a nicely written email from Terry Goldman representing the History Channel offering a full press kit and web goodies promoting their upcoming film Sherman's March (airing 22 April 2007). A teaser video says its a 'spectacular reenactment' and 'psychological profile' of William T Sherman.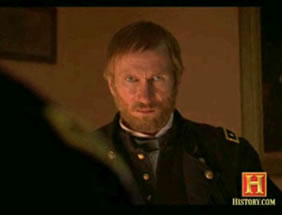 Bill Oberst, Jr as Gen William T Sherman
I don't know anything else about the show, but I think Terry's courteous and professional approach to publicity deserves a little airtime here.