Just a quick post this week – I've too many irons in the fire. Blog neglect aside, though, January has been a good month for incoming treasures and catching up with biographies on AotW.

Corporal James A Barber (M. Frazel)
One in particular came out of a post I found on Granite in my Blood just before Christmas in which Midge Frazel transcribed a relative's narrative about the Barber Family. Included was her great-grandfather James Albert Barber, who was in Battery G, First Rhode Island Light Artillery…
Barber was at Antietam and the other actions of that unit from November 1861 through June 1865. In April 1865, at Petersburg, Virginia, he
was one of a detachment of 20 picked artillerymen who voluntarily accompanied an infantry assaulting party, and who turned upon the enemy the guns captured in the assault
for which he later received the Medal of Honor. You probably know I have special place for MoH men, so I was very glad to add Corporal Barber to the group on AotW.
Midge was also kind enough to send a scan of his Medal of Honor Certificate …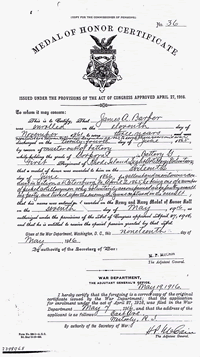 Barber's MoH certificate (1916, courtesy Midge Frazel)
I'd not seen one of these before, and wondered why such a thing would have been issued in 1916, almost exactly 50 years after the original award.
It turns out that was the year Congress authorized a special pension to be granted to all MoH recipents who could document the award.

That each surviving person whose name shall have been entered on said roll … shall receive and be paid by the Commissioner of Pensions in the Department of the Interior, out of any moneys in the Treasury of the United States not otherwise appropriated, a special pension of $10.00 per month for life….
The current Pension amount is just over $1,000.

J.A. Barber, postwar, with medal (M. Frazel)
Soon after hearing from Midge, on New Year's day, in fact, I got a shout from Robert Grandchamp with some help on the otherwise thin page I have on Battery G. It took me some time to connect Midge and Robert–or their common interests–but I'm glad they ganged up on me.

Captain Charles D. Owen

Of Captain Owen, who commanded the Battery in September 1862, researcher, master's dissertation author, and seasonal Harpers Ferry Ranger Grandchamp wrote:
The Owen image is from the book by Thomas Aldrich, "History of Battery A, First RI Artillery." Owen was 19 when he dropped out of Brown Univ. in 1861 to join Battery A as a Sgt. He fought at Bull Run and was promoted to 1st Lt. After the 1861 battle at Bolivar Heights he went home on sick call. Here he was commissioned a captain and given command of Battery G. Led it through the Peninsula Campaign, Antietam, and Fredericksburg. After Fredericksburg he resigned to go home on "business matters." Captain Charles H. Morgan of the II Corps Artillery saw it differently and wrote, "Owen lost interest in the battery." After the war he joined MOLLUS and remained in the mercantile business, ironically this was the career path of Battery G's other two captains as well, Horace Bloodgood and George W. Adams.
He also passed along striking photos of three other members of the Battery from his own collection, to wit:

Lieutenant Otto Torslow (R. Grandchamp)

Bugler Thomas F. Mars (R. Grandchamp)

Private Peter Riley (R. Grandchamp)
Robert notes of these men:
… As Sedgwick broke apart in the West Woods, [Torslow and Mars] tried to rally the force, both were promoted. Mars was killed at Marye's Heights and Torslow was court martialed in 1863 and resigned because of drunkeness in 1864. I have also attached one of Private Peter Riley who was severely wounded at Bloody Lane and was discharged in Feb. 1863
___________
Robert (rgrandchamp40 at aol dot com) is looking for anything else our readers might have on the Battery at Antietam, or Rhode Island Artillery in the War more generally.
As a reminder for me (or you, if you'll get there sooner than the Spring), in particular he's looking for Medal of Honor files from the National Archives on:
Sergeant Achibald Molbone
Sergeant John H. Havron
Corporal James A. Barber
Corporal Samuel E. Lewis
Private Charles D. Ennis
Private John Corcoran
Private George W. Potter
from Letters Received Enlisted Branch:
Entry 409, File B-6920 for Corcoran
Entry 409, File C-7026 for Potter
in Correspondence of the Records and Pension Office
Entry 501, File 515708 for Barber, Havron, Lewis and Molbone;
File 334821 for Ennis
I hope I'll make the run to the Archives before April, but would be happy to hear of anyone else with the time and a visit coming sooner.