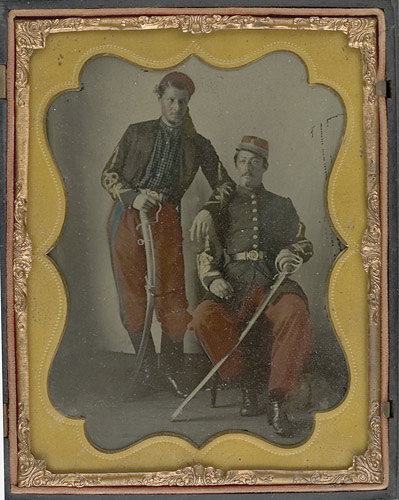 M.A. and G.A.G. Coppens (1861, from Cowan's Auctions)
This stunning piece is a rare image of two Louisiana Zouaves, one of whom was killed in action at Sharpsburg. It is among a trove of pictures of "my boys" I've harvested from the web in the last few days – thanks to Cowan's, Heritage, and Museum Quality Americana auction houses.
I've ranted in the past about our history disappearing into the hands of private collectors (and it's still a shame this stuff isn't in public repositories), but I'm mostly reconciled to that. As long as firms like Cowan's continue to make their archives of past sales available on the web, I think they're acting in some ways as digital museums – and doing us a great service.
I'll be pushing more than 20 of these new-to-me images of Antietam/Sharpsburg participants to AotW over the next few days. Among some of the most compelling is the lovely tinted half-plate ambrotype above, along with a crisp CDV and a mustering-out group photograph below …
The two men above are brothers Marie Alfred (standing) and George Augustus Gaston de Coppens taken about March 1861.
Cowan's researcher describes their uniforms:
One of only two Confederate Zouaves units organized early in the war (the other being Wheat's Battalion), the distinctive uniform of Coppens' Zouaves is well-documented in period newspapers accounts and contemporary illustrations, although only three published albumen photographs of Coppens' Zouaves have come to light (one, a cdv of Capt. H.H. Zacharie was in our November 2002 Sale). Coppens' uniform was patterned, indeed grafted, from the famous French Zouaves whose exploits had captured the public's imagination during the recent Crimea War. For a brief period of time, at least through the end of 1861, Coppens' officers wore a trademark red chasseur-style kepi with wide sky-blue band and gold lace quartering. The black-blue frock coat was single breasted, closely tailored to the torso, very full skirt to below mid-thigh, low collar with round edge, with rank being indicated by rows of gold lace in Hungarian knots that reached almost to the shoulder.
At Sharpsburg, Captain Marie Alfred commanded the First Louisiana ("Coppens' Zouaves") Infantry Battalion in his brother's absence. The battalion was in action in Starke's Brigade along the Hagerstown Pike near the Miller Cornfield.
Lieutenant Colonel George Coppens was away from his Battalion, having been placed in temporary command of the 8th Florida Infantry by General Pryor due to a lack of field-grade officers present with that unit. George was killed early in the action at the Bloody Lane.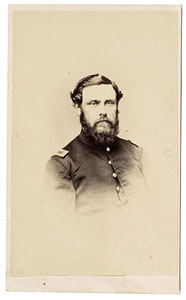 Lt. L. Reed, 54th Massachusetts (c. 1863, CDV from Cowan's)
This tremendously crisp and clear image is of Lewis Reed, who was a corporal in the 12th Massachusetts Infantry, Company G, at Antietam. He was wounded in action in Miller's cornfield there, part of General Hooker's First Army Corps' assault of the early morning of September 17th. In July 1863 he accepted a commission as 2nd Lieutenant in the new 54th Infantry – the famous regiment of black troops originally under the command of Robert Shaw. Reed mustered out of service from the 54th as Captain, Company K, in August 1865.


At Muster-out, Albany, October 1864 (from Cowan's)
Standing, L to R: Capt Grannis, Lt McCormick, Lt Botchford, Capt Nash, Capt Kimberly, Capt Danks, QM Mundy, Lt Ten Broeck, Capt Fox; Seated: Lt Chs. Kelly, Surg Townsend, Col Conner, Maj Knox, Capt Allen.
The man seated in the middle of this excellent shot is Freeman Conner, then Colonel of the 44th New York Infantry – "Ellsworth's Avengers." What makes this picture particularly interesting, I think, is that is was taken the very day these officers and their regiment mustered out of service: 11 October 1864.
Conner was the Major and commanded at Antietam, where the 44th was among the reserve units of General Morell's Division, Fifth Corps.
Cowan's blurb writer believes Connor to have been central to the pre-War Zouave 'movement':
In 1859 he became associated with Elmer Ellsworth and joined the soon-to-be famous "United States Zouaves Cadets." As the tallest man in the company, the diminutive Ellsworth found Conner to be physically imposing and promptly named him First Sergeant in charge of the relentless drilling that characterized the Cadets. Conner and fifty other picked men accompanied the "Chicago Zouave Cadets" on their celebrated tour of the major Eastern cities during the summer of 1860, thrilling audiences with their precision drill and giving birth to the Zouave movement in the United States.

Conner was a Captain in the Chicago Zouave Regiment when the guns sounded on April 22, 1861. When Elmer Ellsworth went to New York City to form a regiment to be known as the 11th New York Fire Zouaves, Conner was one of four Chicagoan's he took with him to become the officer cadre of the new regiment. As a 1st Lieutenant in the 11th New York, Conner was in the streets of Alexandria, Virginia the day Ellsworth was shot and killed trying to tear down a Confederate banner flying over the Marshall House. He later fought at Bull Run where the "Fire Zouaves" broke and ran when charged by J.E.B. Stuart's 1st Virginia Cavalry …
Finally, there's this fantastic face: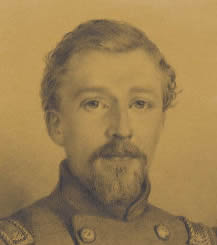 Wilder Dwight (1862, from Heritage Auctions)
It's not a photograph at all, actually. Rather a drawing of Wilder Dwight done by one of the men in his regiment – the 2nd Massachusetts Infantry – earlier in 1862. Sadly, Dwight was mortally wounded in action at Antietam and died two days later. The image I've been using of him til now is from a painting in Memorial Hall at Harvard. I wonder if that portrait might have been done from this drawing.
On the back of the picture's frame, apparently written by Dwight to his father is this:
… from camp at Fredericksburg, Maryland [sic – it was Frederick, Md]. It is now Sunday, Jan. 12 [1862], a bright fine day. I have been giving my last sitting to Private D'Avignon of Company I who has been attempting to pencil my portrait for the last few days. I shall send it to you by Mrs. Abbot. It is, at least, cleverly drawn and as a souvenir of our winter quarters, will perhaps interest you. D'Avignon is quite proud of it and he hopes you will find it a resemblance. He is a reduced artist and too good for a soldier. He wished exact directions be given to you for framing it…
__________________
Notes
The legend for the group photo of the officers of the 44th New York is from the lovely 1910 History of the Regiment by (Capt) Nash, page 216. It's online in text and image from Google Books.
The Life and Letters of Wilder Dwight (1868) is also online, but does not have the letter of the 12th. One of January 13th, however, includes this about the artist:
… Again, art is giving us repute in another direction. Private D'Avignon, of Company I (a reduced artist, and too good for a soldier), is to have the honor to draw a picture of General Banks. So you see that we are not occupied as your fancy would have us…
__________________
Addendum
Harry's found another fine image of Wilder Dwight, this from the Museum Quality Americana house. It's a carte de visite from Boston photographer James Wallace Black [bio]: