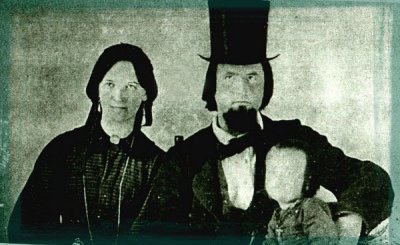 Captain Samuel Andrew Willson commanding Company F of the First Texas Infantry was seriously wounded at Sharpsburg on 17 September 1862 and again at Gettysburg, and captured, in July 1863. He escaped from the Federal prison at Fort Delaware in December 1863, was appointed Major and Assistant Adjutant General, CSA, and reported to a staff job in the Trans-Mississippi Department in January 1864.
He had quite a history, admitted to the bar at age 17 and pre-war law partner with Philip A. Work, the First Texas' Lieutenant Colonel and commander at Sharpsburg. His mother Mary Richardson "Polly" Davis Willson was a relative of CS President Jefferson Davis. Samuel returned to the law after the war and was a District Attorney and Judge in Cherokee County.
The tintype photograph with his wife Susan Elizabeth Priest and the first of their 7 or 8 children, Mary Alice (1855-1941), is online from family genealogist Shannon Smyrl, preserved by descendant Sarah Bailey Priest David.