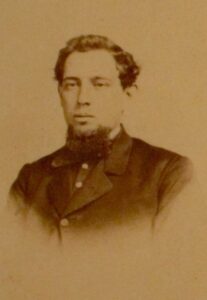 Lieutenant Ferdinand M. Pleis was Adjutant of the 106th Pennsylvania Infantry at Antietam in September 1862. He survived that battle, but
Adjutant Pleis had his horse shot from under him and instantly killed by a round shot, before reaching the Hagerstown road.
He was not as lucky at Gettysburg in July 1863. He was hit in the thigh by a piece of artillery shell and died in Philadelphia on 2 August 1863. His carte-de-visite here was sold by J. Mountain Antiques in 2016.