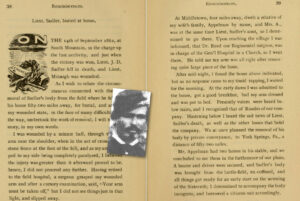 This poor photograph is the best wartime image I've yet found for 2nd Lieutenant Henry N Minnigh of Company K of the First Pennsylvania Reserves, wounded at Turner's Gap on South Mountainn on 14 September 1862. It was contributed to his Findagrave memorial by by Pat Callahan.
He was in action with his Company on Little Round Top at his home town of Gettysburg on 2 July 1863 and mustered out as their Captain in June 1864. He was brevetted Major in March 1865 for his service.
The pages in the background are from his own History of Company K. 1st (Inft) Penn'a Reserves: the Boys who Fought at Home , online from the Hathi Trust.