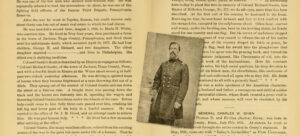 This page from Martin D. Hardin's Twelfth Regiment Pennsylvania Reserve Volunteer Corps … (1890) describes the accidental death of Richard M Gustin in Elmira, NY in 1877. He was then 49 years old.
In 1860 he was a photographer – "Daguerrean Artist" – in Troy, Bradford County, PA. By June 1861 he was Captain of Company C of the 12th Pennsylvania Reserves, and he commanded the regiment as senior officer at Antietam. He was the Lieutenant Colonel of the regiment at muster-out in June 1864 and was brevetted Colonel in March 1865.
His photograph in Lieutenant Colonel's uniform is from the frontpiece of Hardin's history, which is online from the Internet Archive.