Sergeant Angelo M Crapsey of the "Bucktails" – the 13th Pennsylvania Reserves. Eyewitness to the Maryland Campaign.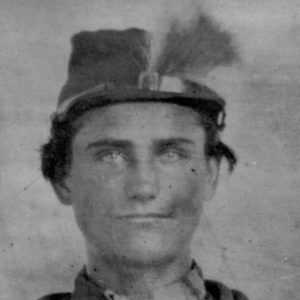 After fighting at Turner's Gap on South Mountain on 14 September he wrote a friend at home:
… It looked like a task to storm the mountain for it was very steep and more than one mile to the top of it. In we went. Company I was reserve awhile & the Rebels shelled us, wounding 3 of our men, 2 of which died that night. My right hand man was one to fall. Soon after this we were deployed & 3 with me were posted behind a rock wall. W Brewer & L Bard & Hero Bloom [Blom] were with me. The Rebels were behind a fence and rocks. Bard was wounded and Brewer helped him away & soon Bloom was shot by my side. He died that night. Northrop fell a few yards to the left. Maxson fell dead within a few feet of him.

Well it was close work. I only got my face and eyes full of bark for there was a tree just on the rock. That's all of this …
Two days later, on the evening of the 16th, he and the Bucktails were at Antietam:
… Just as we emerged from a belt of woods into a plowed field, the Rebels fired across the field. We moved forward double quick & lie down behind a little knoll & commenced firing at the Rebels … It was soon dark. We kept firing so fast they could not stand it. My gun [a Sharps breechloader] was so hot I was afraid to load it but kept stuffing it and firing at the flash of their guns. We charged & drove them out of the woods … Col. McNeil was killed and Lt Ellison [Allison] also. I fired 70 times & was well satisfied to stop for the night.
(you can find something about all those names from the Bucktails' page on AotW)
Crapsey was captured at Fredericksburg in December, was a prisoner at Libby in Richmond, was released and saw action again at Gettysburg, but was very ill afterward and was discharged for disability in October 1863.
He went home probably suffering from PTSD and attempted suicide twice. He succeeded in killing himself the third time, with a friend's rifle, in August 1864. He was 21 years old.
________
His picture from a photograph posted on Crapsey's Findagrave page by Dennis Brandt, author of Pathway to Hell: A Tragedy of the American Civil War (U of Nebraska Press, 2008) – the tragedy was Crapsey.