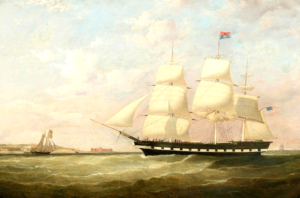 This lovely thing is the packet ship Dewitt Clinton of New York departing Liverpool, an 1865 painting by English maritime artist Samuel Walters offered at auction by Bonhams in January 2011.
James Fegan was aboard her on a passage from Liverpool to New York City in 1850. From Athlone, he'd been a policeman in the Royal Irish Constabulary before emigrating, and enlisted in the 2nd United States Infantry soon after arriving in America. He was a Sergeant by 1856 and was wounded at Antietam in 1862, but he survived the war and another 20 years of US Army service to retire in 1885.
He was awarded a Medal of Honor for singlehandedly fighting off "a party of desperadoes" – his fellow soldiers – and getting a powder train through to Fort Dodge, KS in March 1868.
__________________
From the New York Times of 10 March 1860:
The wreck of the DeWitt Clinton.; THE PASSENGERS SAVED AND BROUGHT TO THIS CITY.

During the severe gale and snow storm which prevailed on Thursday, the packet-ship De Witt Clinton, bound from Liverpool to New York, went ashore on the New Jersey coast, eight miles below the village of Squan. The vessel contained a valuable cargo, and carried a large number of passengers. Information was speedily conveyed by signals to the shore, but the remoteness of the point from the life-saving apparatus, and the sparseness of the population, prevented any active measures. Fortunately, the steamship Quaker City, on her voyage hither from Havana, observed the vessel, and hailed and dispatched the steamtug Jacob Bell, which proceeded at once to the rescue. The Clinton was found to have bilged, but was lying very easily, and there was reason to believe that she might be saved after discharging a portion of her cargo. The passengers were all taken off by the pilot-boat Christian Bergh (No. 13) which came up opportunely, and last evening reached Quarantine in safety.

The Dewitt Clinton, Capt. DUNN, was built in this City in 1848, by Messrs. PERINE, PATT & SONS. She was of 1,079 tons burden and of 20 feet draft. Messrs. H.L. RICH & Co. are the owners of the vessel, which ranked as A 1-1/2.