This young officer is Jonas R. Davis, First Lieutenant, Company B, 21st Massachusetts Infantry in a photograph probably taken in early 1864. He was Company A's 3rd Sergeant when he was wounded at Antietam on 17 September 1862.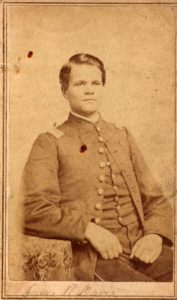 An interesting side note: Davis was mustered as First Lieutenant of the 21st Massachusetts in February 1864 by Captain H.R. Rathbone, 12th United States Infantry. On 14 April 1865 Major Rathbone and his fiancé were with the President and First Lady in the President's box at Ford's Theater in Washington, DC.
Here's Jonas' wife Clara. They wed in Templeton, MA in January 1866 and had two daughters together. These photographs were kindly contributed to their respective Findagrave memorials by Barbara Worthley.