Private John E Stuart of the 4th Texas was wounded at Sharpsburg in September 1862 and again at Gettysburg in July 1863, by then a Sergeant. His leg was amputated and he was retired and sent home in April 1864.
While he was in the hospital, in March 1864, he applied to the Association for the Relief of Maimed Soldiers in Richmond, VA for an artificial limb. The original is among the papers in his Compiled Service Records jacket in the US National Archives, Washington, DC.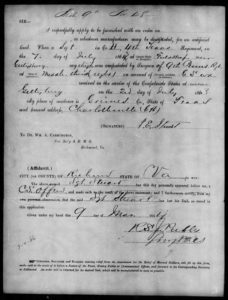 Here he is in a post war picture provided to his Find-a-grave memorial by Sandi Costa.