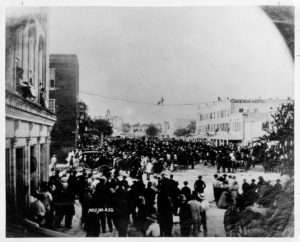 A view north down Congress Avenue in Austin, TX just after the war. Try to ignore the tight-rope walker. The (old/2nd) State Capitol building is at the end of the avenue. At right, under the Avenue Hotel sign, is the Swenson Building – the Avenue Hotel took the upper 2 floors, and a number of businesses shared the first floor with storefronts under that awning.
One of those was a grocery and liquor store operated by Sharpsburg veteran and late Private, Company B, 4th Texas Infantry, Thomas E. Cater.
Here's a plan view of that same city block 20 years later, showing some of those businesses, from the Sanborn Fire Insurance Map (1885), online thanks to the Library of Congress.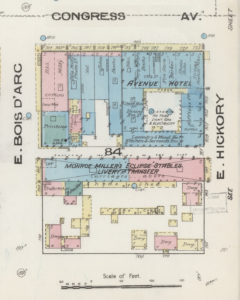 A fine businessman I'm sure, but Thomas E Cater caught my eye for another reason.
In February 1863, while serving in Virginia, he got a furlough home to Texas, but he was listed as absent without leave – AWOL – when he hadn't returned by May. I could find no evidence of a catastrophic wound or dire illness to explain why he left and I don't know why he didn't return. Perhaps he preferred being with his new wife and baby daughter Elizabeth in Austin.
But (and here's the extraordinary part) while still technically an AWOL Private of the 4th Infantry in December 1863 he was assigned to command a Company in or near Austin …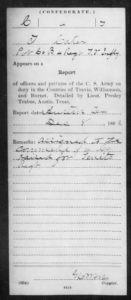 … he was Captain Cater with his own independent cavalry company on 27 December 1863 and by August 1864 he was a Major commanding his and 2 other Companies as Cater's Battalion of Texas Cavalry. They had service in South Texas to the end of the war, though without Cater in their final action at Palmito Ranch, TX – arguably the last battle of the war.
He was formally surrendered at Galveston, TX on 25 May 1865 and paroled in Austin on 27 July. He went home, established that mercantile establishment, and had many more children.
_______________
The photograph at the top is in the collection of the Austin History Center, Austin Public Library and hosted online by the University of North Texas Libraries. The caption reads:
Scene on Congress Avenue in 1867, showing exhibition by [French] tight-rope walker ([Jean] Devier) across the Avenue from the historic old Avenue Hotel at Eighth and Congress, on East side. The carriage at the left, entering the Avenue, is that of Gov. E. M. Pease (Gov. from 1853-57 and 1867-69).
The card here is from his Compiled Service Record jacket; the original is in the US National Archives.
_______________
My notes on operations and leaders of Cater's Battalion 1864-1865, after the break …
From the Official Records of the War of the Rebellion:
Operations in West Florida, Southern Alabama, Southern Mississippi, Louisiana, Texas, and New Mexico
Series 1, Vol. 26, Part 2 (Ser. 42) pg. 543-544. from Colonel John S Ford. San Antonio, December 27, 1863:
… I have ordered Captain Cater's company to this point. It will reach here to-morrow. I have learned that the major-general commanding has ordered him to report at Houston. His company is full to the minimum, and was not mustered into service. His men are of the very best class, and peculiarly request that they be allowed to remain under my command.
Series 1, Vol. 26, Part 2 (Ser. 42) pg. 560. Col John S Ford. San Antonio, December 29, 1863:
… Captain Cater's company has arrived. In all, we cannot muster at this point more than 100 men, exclusive of Captain Adams' company and Lieutenant Sneed's detachment …
Operations in Louisiana and the Trans-Mississippi States and Territories
Series 1, Vol. 34, Part 2 (Ser. 62), pg. . February 1, 1864 from John S. Ford.
…Captain Cater will be sent directly to Oakville.
Series 1, Vol. 34, Part 1 (Ser. 61) pg. 638-639 – Report of Major Mat. Nolan, C. S. Army. March 13, 1864.- Skirmish at Los Patricious, Tex.
… my force, composed of detachments from Ware's, Cater's, Taylor's Scott's, Richardson's, and Tate's companies … The casualties are as follows: Captain Cater's company, Third Sergeant W.L. Patterson, killed; … Captain Ware, of Colonel Buchel's regiment, Captains Cater, Taylor, and Richardson commanded detachments from their respective companies, and acted with conspicuous gallantry.
Series 1, Vol. 34, Part 3 (Ser. 63), pg. 774-776. Laredo, April 17, 1864. from John S Ford.
…Captain Cater, with a portion of Major Nolan's command, is at Los Angeles, 12 miles this side of Colonel [Daniel] Showalter's …
Series 1, Vol. 34, Part 1 (Ser. 61), pp. 1054-56 – Report of Report of Colonel John S. Ford, 2 July 1864 skirmish at Rancho Las Rinans.
… Captain Cater performed well …
Series 1, Vol. 41, Part 2 (Ser. 84), pg. 1101.
Cater's (T. A.) Battalion. (Official designation not of record). See T. A. Cater.
Series 1, Vol. 41, Part 2 (Ser. 84) pg. 1069. Fort Brown, August 16, 1864. Report of John S Ford.
…Cater's battalion has been on duty in Brownsville. He has been sent to the front on several occasions to support Lieutenant-Colonel Showalter. The accompanying will give the required details. [not found]
Series 1, Vol. 48, Part 1 (Ser. 101), pg. 265 – US Army view of the Battle of Palmito Ranch.
Series 1, Vol. 48, Part 1 (Ser. 101), pg. 1457; Western Sub-District of Texas, Brigadier General James E. Slaughter, C. S. Army, commanding, for the month of March, 1865.
…[Order of Battle] John S Ford's Southern Division. Cater's battalion, three companies cavalry …
Other
The Ranger Ideal Volume 1: Texas Rangers in the Hall of Fame, 1823-1861. Darren L. Ivey (2017; note 147, pg. 543)
The company commanders of Cater's battalion were Cater, Carrington, and Lorenzo Trevino …
Battle of Palmito Ranch, 13 May 1865 – Captain W H D [Wiley Hubbard Davis] Carrington then commanding. Three companies of cavalry. Approximate strength: 120 men.
"Carrington, Capt. W.H.D. "The Last Battle The Last Charge, and the Last Gun Fired in the War."
Chapter XLI in History of Texas, Volume II: From 1685 to 1892, by John Henry Brown. Austin: Jenkins Publishing Company, 1970, p. 434.
Palmito Ranch Battlefield – National Historic Landmark Nomination form [PDF]
David S. Combs, late Pvt, Co. D, 8th Texas Cavalry, afterward in Carrington's Company, Cater's Battalion (1864-65). In L.B. Giles' Terry's Texas Rangers (1911).
I am glad to say that in this last fight of the war the Confederate arms were victorious. A few days after this we got word that the war was over. So we folded our tents and quietly and sadly turned our faces homeward. As a company or battalion we never surrendered. We simply laid down our arms and tried to forget the past and all its disappointments.