In 1860, the companies [of the 4th United States Artillery] in Utah were kept busy protecting the parties of emigrants going West, and keeping open the mail routes. Light Battery B, operating as cavalry, marched during that summer 2000 miles over a barren and desert country, and though the Indians were continually hostile, the roads were kept open. The battery had a successful fight against 200 Indians at Eagan's Canyon, August 11, 1860, losing three men wounded (one mortally).
From May to October 1860 Battery B was based at the small Pony Express station located at Station Spring at the southern end of Ruby Valley in western Utah Territory (now Nevada). 32 year old First Lieutenant D.D. (Delavan Duane) Perkins, USMA '49 was in command; Lieutenant Stephen H Weed USMA '54 and Surgeon Charles Brewer (Assistant Surgeon CSA 1861-65) were the other officers.
On 15 and 16 July 1860 US Census enumerator J.P. Waters identified 105 Americans there, but did not include the band of Shoshone who lived nearby. His three page [ page 1 | page 2 | page 3 ] listing of the residents is a great reference for students of the Battery.
Among the 70 soldiers listed in Ruby Valley that summer at least 17 were also in action with Battery B just over two years later at Antietam, including then-Sergeant James Stewart, who commanded the Battery at Antietam after Captain Campbell was wounded, and Private Richard L Tea, who was slightly wounded at Antietam, was awarded the Medal of Honor in 1876 for action against the Cheyenne in Kansas the year before, and retired from the Army in 1888 after 30 years in uniform.
Others of the Battery in that 1860 Census list known to be at Antietam in 1862:
William West (WIA Antietam)
John Mitchell
Andrew J Ames (WIA Antietam)
Joseph Brownlee (WIA Antietam)
John Brown (KIA Antietam)
James Cahoo
Frederick A Chapin
Henry P Lyons (KIA Antietam)
William Kelly
Joseph Herzog (MWIA Antietam)
Andrew McBride
John Wilsee/Wilsey (WIA Antietam)
Robert Moore (WIA Antietam)
William Kelly
William Moffitt (WIA Antietam)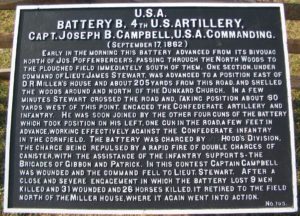 _______________
The quote at the top is from the US Army history of the 4th Regiment of Artillery, online thanks to the Center of Military History.
The census pages are from 1860 United States Federal Census, Population, Schedule 1. NARA microfilm publication M653 (1,438 rolls). Washington, D.C.: National Archives and Records Administration. The Ruby Valley, St. Mary's, Utah Territory set are on roll M653_1314, Pages 1-3. I found these page images online thanks to FamilySearch.
The photograph of the Battery's battlefield tablet at Antietam was taken by Craig Swain for the HMDB.