Soon after returning to his company following his capture at Sharpsburg, Festus Franklin Wooten, Company H, 4th North Carolina Infantry was hit in the right hand by a minie ball in action at Fredericksburg/Chancellorsville on 3 May 1863 and was captured by Union troops. He was admitted to the US Army's Lincoln General Hospital in Washington, DC 10 days after he was wounded. Here's his record of treatment there: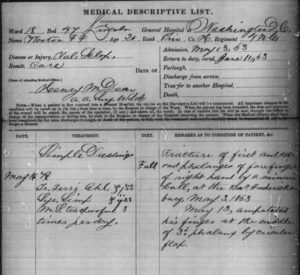 Generally excellent record-keepers, those Federal Surgeons.
Festus returned to duty in August 1863, was captured again, at Winchester in September 1864, and spent the most of the rest of the war a prisoner. He was afterward a farmer for more than 60 years in the South River area of Iredell County, North Carolina.
________________
Notes
Private Wooten's doctor in Washington was Henry Munson Dean (1836-1930) of Connecticut. He was a graduate of the College of Physicians and Surgeons, NY with an MD in 1861. He was acting Assistant Surgeon, USA 1862-65, including service with US Colored Troops, then was appointed Assistant Surgeon of the First Regiment, US Veteran Volunteers. After discharge in January 1866 he married in Philadelphia, and went to Muscatine, Iowa where he practiced medicine.
Wooten's Medical Descriptive List is from his Compiled Service Records at the US National Archives, online from fold3. Vul. Sclop. or V.S. – vulnus sclopetarium (archaic): pseudo-latin for gunshot wound.
The clipping above is from the Statesville (NC) Landmark of 26 March 1928, from newspapers.com.