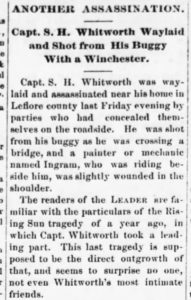 [touch image to see the whole piece]
A man familiar with violence, Samuel Hudson Whitworth survived a serious wound at Sharpsburg in 1862 while a Sergeant in Company C, 12th Mississippi, and in March 1886 was instrumental in the shooting deaths of 23 black citizens in a vigilante action at the Carroll County Courthouse – the Carrolton Massacre.
In July 1888, about a year before his killing, he'd incurred the murderous anger of his neighbors by his actions resulting in the deaths of two men and wounding of two others, at a store at Rising Sun, a small rail station on the edge of his Leflore County, MS farm. Here's a news story about that earlier incident: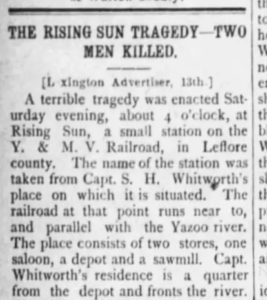 [touch image to see the whole piece]
---
Notes
The photograph at the top was shared to Ancestry.com by Keaton Bryan in 2016; I'm guessing at the year it was taken based on his apparent age and clothing style.
The clippings here, online from newspapers.com, are from the Brookhaven Leader of 29 August 1889 (top) and the Vicksburg Evening Post of 16 July 1888.
The article about the Carrolton Massacre from the Mississippi Department of Archives & History, linked above, was written by Rick Ward, who also wrote a fictionalized account of the massacre titled Blood for Molasses: A Mississippi Massacre (2012); Ward refers to his protagonist as "Houston Whitworth."
The Yazoo and Mississippi Valley Railroad (Y & MV) was incorporated in 1882 and was part of the Illinois Central Railroad system.