With a nudge from a record in the Frederick Patient List database, I went looking for 2nd Lieutenant J. Corfro of Company I, 1st North Carolina Infantry, only to find he probably never existed, despite his shiny new government-issue marker at Mt. Olivet Cemetery in Frederick, MD.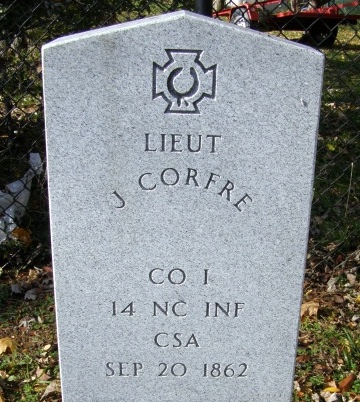 The Lieutenant lived only on paper, in Federal hospital and burial records, which have him admitted to a US Army hospital in Frederick in September 1862 and buried at Mt. Olivet after he died on the 20th.  He appears in no roster, muster roll, or other military record for the First North Carolina or any other military unit.
I believe he was actually Lieutenant William D. Scarborough, who, incidentally, has an equally nice stone at Mt. Olivet.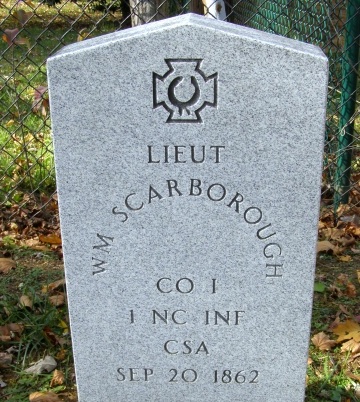 The bits of available information about Scarborough, recorded under many names including Corfro, are sometimes confusing and contradictory, but I think I have made some sense of them.  Follow along and see what you make of him …
read the rest of this entry »
I started a discussion forum/group on Yahoo in April 2001 called TalkAntietam. While never a high volume operation, it has been a place for a wide range of experts and enthusiasts to share information about the battle.
It's probably not a big deal, as most people now use social and other media rather than email for this kind of discussion, but it's a little sad that the group is going away.
In his diary after the battle of Antietam Private Julius Rabardy wrote:
The air is full of explosions and the smell of brimstone, missiles of all kinds strike the trees and dead branches fall among the wounded. I was shot through the right thigh. A poor fellow with uplifted arm begs for water. The arm is shot off and the man speaks no more. A Confederate lies in front of me with a horrible wound. It is Hell. I close my eyes. It is probably from loss of blood, sick at the sight of such carnage. I became unconscious. When I recovered all is quiet.
The regimental surgeon amputated his leg later that day. He was not yet 30 years old and it would seem his best years were now behind him …
read the rest of this entry »