Lieutenant Evan Thomas commanded the consolidated Batteries A and C of the 4th United States Artillery on the Maryland Campaign.
He was the 3rd son of US Army Colonel and Adjutant General Lorenzo Thomas (USMA 1823), and at the start of the War in April 1861 received a commission as 2nd Lieutenant, 4th United States Artillery.  He was promoted to First Lieutenant in May. He was then just 17 years old.
He was assigned to Battery C which, due to a manpower shortage, was consolidated with Battery A in October 1861. He was in action with his battery on the Peninsula in mid-1862 and succeeded to command by order of seniority sometime after Captain Hazzard died of wounds in mid-August 1862. Evan had just celebrated his 19th birthday.
Here's Lieutenant Thomas with a group of his fellow officers taken at Sharpsburg in September or October 1862, shortly after the battle of Antietam: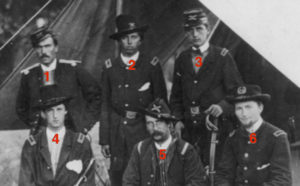 The caption on the picture is Lt. Rufus King, Lt. Alonzo Cushing, Lt. Evan Thomas and three other artillery officers in front of tent, Antietam, Md. (click to enlarge) There is no guide to who is who, but I have had some expert help working to identify them.
read the rest of this entry »
I've found a fascinating description of the Smoketown Hospital as it was in January 1863 in a letter to an Indiana newspaper. I came upon it while looking into one of the many soldiers of the 27th Indiana Infantry wounded at Antietam, Private Thomas Mitchell Gaskins.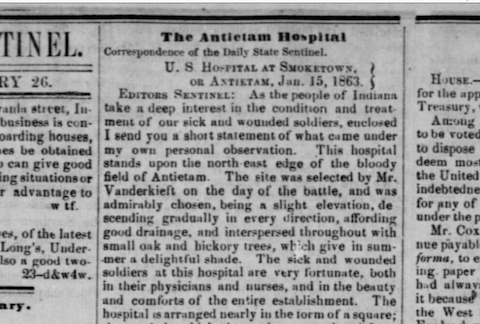 The writer lists some of the patients, like Gaskins, and their status, which is immediately useful, but his description of the hospital facilities and staff are the most interesting pieces to me.   
Here's my transcription of the complete letter as published:
U.S. Hospital at Smoketown,
or Antietam, Jan. 15, 1863

Editors Sentinel:   As the people of Indiana take a deep interest in the condition and treatment of our sick and wounded soldiers, enclosed I send you a short statement of what came under my own personal observation. 

read the rest of this entry »
My project on the visual history of the Antietam National Battlefield continues, focused today on one of the most iconic features on the field – the Observation Tower. Since it was built in 1896 the tower has been a central memorial and educational feature of the National Battlefield, and it has always been a popular destinations for visitors.
So how did it come to be, and how has its story evolved in the last 122 years?
It starts with the origins of the battlefield park itself.
read the rest of this entry »