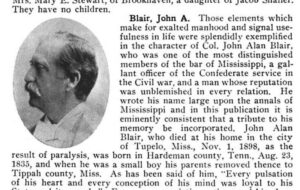 Among the more than 150 casualties in the 2nd Mississippi Infantry at Sharpsburg on 17 September 1862 were all three field officers, wounded – Major John Alan Blair, Lieutenant Colonel David W. Humphreys, and Colonel John Marshall Stone – leaving 2nd Lieutenant William C Moody of Company B in command of the remnant of the regiment at the end of the day.
Blair was a lawyer in Tishomingo County and enlisted as a Private in Company K in April 1861. He was soon after appointed Sergeant Major and was elected Major during the Army reorganization of April 1862. He was Lieutenant Colonel after Gettysburg and was twice captured, at Gettysburg in July 1863 and at Hatcher's Run, VA in February 1865. He survived the prisons at Point Lookout, MD and Johnson's Island, OH to resume his law practice, in Tupelo after the war.
His profile and tribute above are from Dunbar Rowland's Mississippi: Comprising sketches … (Vol. III, 1907). His photograph below is from the frontpiece of an annotated typescript of his 1864-65 diary, published in his namesake's 1949 Masters Thesis.