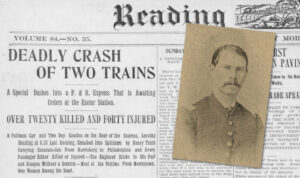 Corporal John H "Highly" Coulston, Company A, 51st Pennsylvania Infantry was wounded at Fox's Gap on South Mountain in September 1862. He was Captain by January 1865 and mustered out in July.
Tragically, he was severely injured in a train crash – known afterwards as the Exeter Station wreck – on 12 May 1899 while returning with many other veterans from the dedication of a statue of statue of General Hartranft in Harrisburg. He died the next day.
Superimposed on the front page of the Reading Times of 13 May 1899 above is a picture of him c. 1864 from a published photograph contributed to his Findagrave memorial by Charles McDonald.
The crushed train car below testifies to the force of the collision. Below that is a post-war photograph of Isaac E Filman – also of Company A and wounded at Fox's Gap, and also killed in the crash (lower two photos from the Pottstown Mercury of 1 July 2012).