I should be doing something else, but got pulled off track by a trooper of the 3rd Indiana Cavalry, James Williamson, who was killed in a little-known cavalry skirmish at the Quebec Schoolhouse near Middletown, MD on 13 September 1862.
His regiment's historian, former Corporal William N. Pickerill wrote a fascinating account of that 'desperate little cavalry battle' for a newspaper in 1897, and put it in his regimental History in 1906. Because of him, I've spent the last couple of days putting names and faces with some of the men who were there.
On that Saturday the 13th, a 4-Company detachment from the 3rd Indiana and 8th Illinois regiments shadowed a well-guarded Confederate supply train as it climbed South Mountain near Middletown, MD (center of the map) …
… but in its rear was a battery of brass guns and enough rebel cavalry to have swallowed the pursuing force. The detachment was satisfied with observation and decided that it did not want that wagon train anyhow, and started to return to the command which it had left at Middletown by a short cut down a winding stony ravine, hemmed in on either side by a very crooked worm fence, so that this particular route answered for the channel of a stream and a country road at the same time.

Quebeck school-house stood at the head of this ravine, and just as Company F of the Third Indiana, the rear company of the detachment, had entered the ravine, Cobb's Legion of rebel cavalry, commanded by Col. P. M. B. Young, dashed down the mountainside past the schoolhouse, charging us with sabers and pistols, and for a few minutes a desperate little cavalry battle ensued.

The column halted and fired an oblique volley into the charging rebels and then the clash came and Yankees and rebels, horsed and unhorsed, mingled, indiscriminately shooting at each other and using their sabers in the same reckless manner, until the men at the head of the column tore down the fence on the side of the ravine next to the attacking force and went at them in such splendid style that it was soon too hot for the rebels and they gave way, dashing back over the hill from whence they came, leaving us in possession of the field and their dead and wounded.

In this little cavalry battle Corp. James H. Williamson, of Company F, Third Indiana, was killed by having his head crushed with a saber in the hands of a rebel; Sergt. Joseph Lewis, Company E, same regiment, was shot through the heart and lay across a rebel sergeant [Barksdale] also shot through the heart.

John Grubbs, William Hinds, Corporal Sheiverbein and John Childs, of the former company, were badly hacked about their heads with rebel sabers, and Samuel Cross, of the latter company, was shot through the lungs, but recovered. Four men of Company F, Third Indiana, were captured but returned next day paroled. The loss to the companies of the Eighth Illinois was about the same as those of the Third Indiana, but we have no accurate information on that point.
The Confederate cavalry brigade commander General Wade Hampton reported it a little differently:
After withdrawing the brigade from Middletown, I proceeded toward Burkittsille, where I expected to form a junction with Colonel Munford. On the road to this place I discovered, on a road parallel to the one on which we were, a regiment of Yankee cavalry. Taking the Cobb Legion with me, I directed Lieutenant-Colonel Young to charge this regiment.

This order was carried out in gallant style, the legion crossing sabers with the Yankees and chasing them some distance. Five prisoners were taken, while a published account of the Yankees now before me admits a loss of 30 killed and wounded. The prisoners taken belonged to the Third Indiana & the Eighth Illinois. Lieutenant-Colonel Young, who led the charge, received a painful wound in the leg, and Captain G. J. Wright, whose company was in the advance, was wounded in the arm [foot]. Our loss was 4 killed and 9 wounded. Among the former I regret to have to mention Lieutenant Marshall and Sergeant Bardsdale.
Private Wiley C. Howard of Cobb's Legion Cavalry later remembered it …
Across the Potomac we plunged at night and shortly met the advance of McClellan's second army as it advanced towards Sharpsburg. Our regiment had a number of tussels with the foe at different places, and in a charge between stone-walled lane added new lustre to its fame. Colonel P. M. B. Young and Captain Gib. J. Wright, being both badly wounded. Wright will long be remembered as he lay holding up his bleeding foot and cried to us as we passed, "give 'em h-l, boys, they've got me down!"
Corporal Pickerill also observed …
A remarkable thing connected with this vigorous cavalry fight is that General Pleasanton, commanding all the cavalry of the Army of the Potomac in this Maryland campaign, in his report made in camp near Sharpsburg and dated September 19, 1862, and which was intended to cover the operations of the cavalry from September 4 to September 19, inclusive, does not mention this engagement at all.
A small engagement, but no less critical to those involved, estimated to be about 100 Confederates of Cobb' Legion and 230 Federals troopers.
I think I've put names to each of men killed or mortally wounded at Quebec Schoolhouse and put up pages for them on AotW.
3rd Indiana Cavalry (Cos. A & F)
Pvt. James Quinn (mw)
Sgt. Joseph Lewis (k)
Pvt. Smyrna W Seever (mw)
Corp. James W Williamson (k)
8th Illinois Cavalry (Cos. F & G) – Major William H Medill, commanding all 4 companies
Pvt Charles Plopper (mw)
Another soldier of the 8th Illinois,
F. B. Wakefield of Company G, was taken prisoner by the rebels, who after taking him a short distance attempted to kill him. They gave him several cuts over the head with sabres, and leaving him for dead fled for fear of pursuit. He, however, rallied and made his way into our lines. For this brutal treatment he swore vengeance on his would-be murderers, and it is said that he well redeemed his pledge and satisfied his wrath …
Cobb's Legion Cavalry (Lt Col Young, wia)
Sgt. Green B. Barksdale (k)
Lt. James F. Marshall (k)
_________________
Notes
There is another soldier or two in each of these units who was listed as killed on the Maryland Campaign but not specifically shown as a casualty on 13 September, so the final tally might have been slightly higher.
Pickerill's History of the Third Indiana Cavalry (1906) is online from the Hathi Trust.
The quote about poor Wakefield is from 8th Illinois Surgeon Abner Hard in his History of the Eighth Cavalry Regiment, Illinois Volunteers (1868), online.
Howard's Sketch of Cobb Legion Cavalry and some Incidents and Scenes Remembered (1901) is also online. Another excellent source for this regiment is Harriet Bey Mesic's Cobb's Legion Cavalry: A History and Roster of the Ninth Georgia Volunteers in the Civil War (McFarland, 2011), not online.
Hampton's Report is on AotW.
The photograph at the top is of a model 1840 US Cavalry saber – "old wrist breaker"-  offered for sale by Worthington Galleries.
The map above shows the military situation at the end of the day on that 13th of September. It's from the West Point Atlas of American Wars (Vol. 1, 1959) which is available in lovely detail online from the Library of Congress.
Here's the approximate location of the Quebec Schoolhouse on a modern topographical map.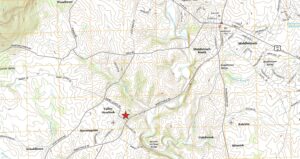 There are a number of other references for more information about the battle.
For a good overview, I recommend a post by John A. Miller on his blog War Returns to South Mountain.
I've read quite a bit about this little action over the last few days and the best, most thorough analysis I've seen is from Larry Freiheit in his Boots and Saddles: Cavalry during the Maryland Campaign of 1862 (Camp Pope Pub., 2013). It's fabulous.
And, if you can find that copy in your attic, there's Tim Reese's The Cavalry Clash at Quebec Schoolhouse: Cobb's Legion, CSA, and Medill's Union Horseman Fight In the Shadow of South Mountain, Maryland, September 13, 1862 in Blue & Gray Magazine of February 1993. He's my source for the number of soldiers engaged.