These are the national colors of the 30th New York Infantry regiment, probably carried at Antietam, from the New York State Military Museum.
Appropriately, the flag has the 34 stars in the blue canton, following the Act of April 4, 1818 signed by President Monroe, which provided that the American flag should have 13 stripes, and one star for each state; new stars to be added to the flag on the 4th of July following the admission of each new state.
A 33-star flag was in use from 1858 to 1861 and the 34-star flag became official on 4 July 1861, a star added for the admission of Kansas (29 January 1861). It was in use for 2 years until 4 July 1863, when a 35th star was added for West Virginia (admitted 20 June 1863).
While probably most common, the rectangular 34-star arrangement above – similar to our modern 50-star pattern, but in rows of 6-5-6-6-5-6 – was not the only one used, as the Act specified only the number of stars. Also frequently seen are flags with rows of 7-7-6-7-7 stars and similar.
Here's a display flag with quite another design. This particular one was made to be hung on a wall and is only finished on one side (as seen on PBSs Antiques Roadshow in 2016).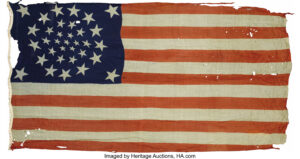 Here's a variation of that circular arrangement, sometimes called the Great Medallion pattern, on a flag sold by Heritage Auctions in February 2007.
Flags were also made with the stars formed in the shape of a large star or flower, such as this one, sold by Heritage Auctions in May 2010.
Let me know of other historical 34-star flags you've seen, won't you?