As I've done on my last several trips to the battlefield, I stopped to visit a few stones in Antietam National Cemetery this past week. Starting at the "back" – the south wall of the cemetery – I noticed particularly the rows of markers for the many unknown soldier buried there …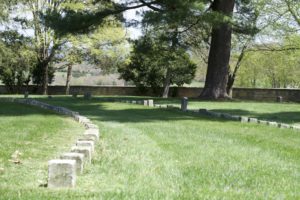 Most appear as small numbered cubes. Some denote multiple burials (as many as 4) with a digit below the marker number, viz: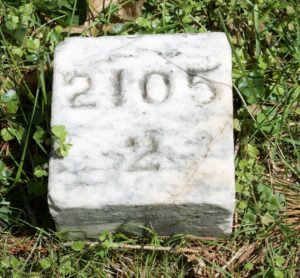 Occasionally the rows are interrupted by full-sized stones, like this one: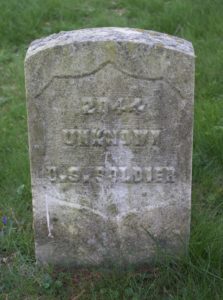 I walked a bit further and picked an assortment of named markers to look into later.
The first to catch my eye was this one, for Private Byron C. Hopper, 13th New Jersey Infantry. Hopper was mortally wounded in the bladder at Antietam and died in a hospital in Frederick, MD in October 1862. His picture is from family genealogist Ree Hopper.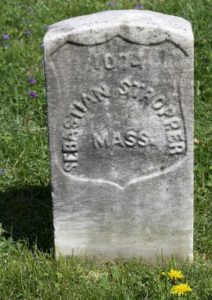 Here's the marker for Private Sebastian Stropper, a 30 year old shoemaker who enlisted as a Private in the 30th Massachusetts Infantry in August 1864. He was wounded at Cedar Creek, VA in October and lost his right arm to amputation. He died of wounds and disease at Cumberland, MD on 4 December 1864.
Samuel S. Estes enlisted in the 2nd Massachusetts Cavalry in February 1865 but died of pneumonia less than 3 months later, also at Cumberland. He was about 35 years old.
Gottfried Liebengut enlisted as a wagoner in the 4th New York Cavalry in 1861 and was promoted to Corporal in January 1863. He was mortally wounded at Front Royal, VA in August 1864 and died about a month later at Sandy Hook, MD.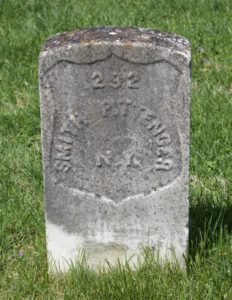 Smith Pittenger is an interesting case. He was with the 5th New York Heavy Artillery at Harpers Ferry in September 1862, and was captured there with the rest of the garrison on the 15th. Later exchanged and returned to duty, he was killed in August 1864 at Halltown, VA, which is just south of Harpers Ferry.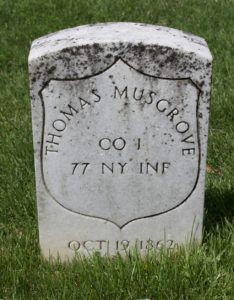 This marker, for Thomas Musgrove/Mushgrove, looks different from most of the others. Perhaps a replacement of his original stone which had him as Thomas Mush (from the cemetery History)? Mushgrove was a Private in the 77th New York Infantry when he died of disease at Hagerstown, MD on 19 October 1862.
The burial teams were not able to identify from which state D. Kimble or Joseph Whip came – as you can see by the bars across their stones below their names. The Cemetery History lists both of them among the many "unknowns" removed from the Antietam battlefield. I've not been able to find anything further about either one and their names do not match any of the soldiers known to have been killed at Antietam that I've accumulated to date.
They are typical of a group of such stones in cemetery.
Here are a few I collected on my visit last October, with which I am just now catching up …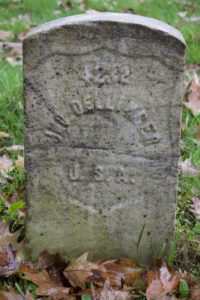 "USA" usually refers to a Regular Army soldier, but in this case I think the John Dellinger in question was a Private in Company K, 71st Pennsylvania Infantry who was killed at Antietam on 17 September 1862.
These 2 are a bit of a mystery. The first is for a Charles A Saxton, 9th Pennsylvania Reserves, according to his memorial on Findagrave. The Cemetery History says he was killed on South Mountain on 14 September and removed from his original burial in Burkittsville. I can find no record of anyone by that name or similar in the 9th Reserves. There was a George W. Saxton, 128th Pennsylvania, killed at Antietam, but he's buried in Richboro, PA.
The other is for "Ralsten Brown", listed as Ralston Brown, Company F, 137th Pennsylvania Infantry on his memorial. Again, I can find no such Pennsylvania soldier and he's not in the cemetery History.
Here's the stone for Augustine Little (1820-1864), a Private in the 12th Pennsylvania Cavalry, along with a photograph from his memorial. He died of disease at Sandy Hook near Harpers Ferry in October 1864 and left a widow and 6 children.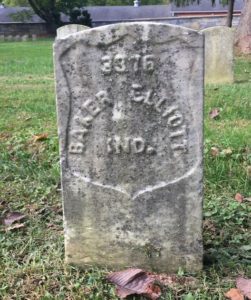 Baker Elliott enlisted as a Private in the 13th Indiana Infantry in December 1864 and died sometime later of disease, at Cumberland, MD.
Another Indiana boy, Moses Coen [probably not Corn], a Private in Company G, 7th Indiana, died of disease at Cumberland, MD on 21 January 1862. His memorial says he died on 29 September 1862. The cemetery History has him as Moses Cowen and also has the 29 September 1862 death date.
Two similar stories: for Amer Hurst, a Private in Company D, 16th Indiana Infantry, and Private Green Bias of Company H, 27th Indiana. Both were also victims of disease, dying at Frederick, MD on 29 December 1861 and 11 January 1862, respectively.
In one final case of serendipity – a happy accident – as I was leaving the cemetery last Friday I noticed this stone block imbedded in the brick walk across the front of the cemetery, along East Main Street/Shepherdstown Pike.
If you look closely, you'll see the letters "US" with an "F" or maybe "E" engraved below that. I don't know what they mean; a boundary stone or other government property mark, perhaps?