Like so many soldiers of the American Civil War, County Tyrone native Robert J. Robinson died, not from combat, but from disease. He succumbed to "congestive fever" at an Army field hospital at Sharpsburg, MD on 7 October 1862 and was originally buried on the field there.
His remains were moved to the new Antietam National Cemetery in about 1867, though misidentified as Robbins rather than Robinson, as seen on this page from the cemetery History (touch to enlarge).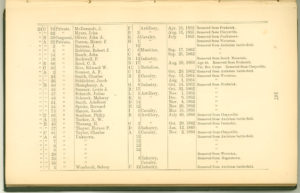 Perhaps doubly sad, at his death Robinson was a veteran of about 7 years Army service but had not yet reached his 20th birthday. He first enlisted as a Musician in the 6th United States Infantry in New York City in November 1855 at age 12 and reenlisted at Fort Yuma, CA in October 1860.
Update 26 April 2023: I visited Robinson's gravesite last Friday, and got a picture of his stone. It's somewhat worn now, but looks to have him as R.I. Robinson.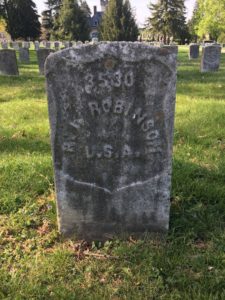 ---
Notes
The page image above is from the Antietam National Cemetery, Board of Trustees, History of Antietam National Cemetery (Baltimore: John W. Woods, Steam Printer, 1869) from an excellent online exhibit from Western Maryland's Historical Library (WHILBR).