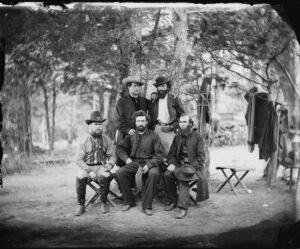 Chaplain William Corby of the 88th New York Infantry was with the famed Irish Brigade as they prepared to charge on the Sunken Road position on September 17th:
Our brigade received orders to go in "double quick," that is, on a full run. I gave rein to my horse and let him go at full gallop till I reached the front of the brigade, and, passing along the line, told the men to make an Act of Contrition. As they were coming toward me, "double quick," I had time only to wheel my horse for an instant toward them and gave my poor men a hasty absolution, and rode on with Gen. Meagher into the battle. In twenty or thirty minutes after this absolution, 506 of these very men lay on the field, either dead or seriously wounded …
He's seated at the far right in this group photograph taken at Harrison's Landing, VA in July 1862 by Alexander Gardner. An original of the image is at the Library of Congress.