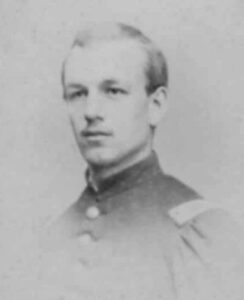 From old New England money, Latham Avery Fish had been Secretary of the Star Base Ball Club in Brooklyn by 1857 in the early days of the sport. In April 1861, age 19, he had brief service in Company C of the 7th New York Militia, then in August he enlisted as Private, Company C, 9th New York Infantry (Hawkins' Zouaves). He was transferred to Company K (Whiting's Battery) and was with them in Maryland in September 1862. By the end of the war he was a Captain in the 174th New York Infantry.
Afterward he was a banker in New York and a member of the Atlantic, Shelter Island, and New York Yacht Clubs and part owner of the yacht Atlantic – an America's Cup hopeful. He commissioned and owned Grayling (1883 – c. 1900), a somewhat experimental shallow-draft centerboard racing schooner. She was unsuccessful in elimination racing for the Cup in 1887 but Fish was on the America's Cup Committee in 1889 and 1895.
His photograph at the top was contributed to his Findagrave memorial by Dennis C. Schurr. Below is his Grayling in August 1890, from the Library of Congress.