Lieutenant Richard C. Shannon of the 5th Maine Infantry was assigned as aide-de-camp to Major General Henry W. Slocum, commander of the First Division, 6th Army Corps, in March 1862. Although a well-educated young man, he was still learning his profession as a staff officer in August and September 1862.
Shannon left behind some wartime diaries which, although not especially dramatic as narrative, offer insight into his day-to-day experience in the field.
Of particular interest to me is this field notebook/diary he had with him on the Maryland Campaign.
It is a flip-page style that he probably carried in his pocket, and he used it both as a traditional diary – writing a brief summary of each day's activity – and as a working notebook to keep orders, names, maps, and other things he needed to remember.
I'll pull out some pages to give you a flavor, here. Click on any of them to expand for easier reading.
Whenever the army was on the move, a knowledge of the locality was critically important to his boss, the General. And to his staff officers, who frequently rode out independently to scout positions, place troops, and direct their routes of march, and could ill-afford to get lost. But printed maps were scarce, so a good staff officer probably prepared his own. There are nine in this volume.
He drew this map on 31 August in the vicinity of Manassas.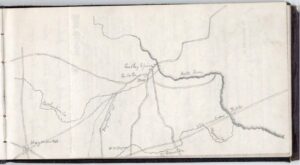 Being from Maine, he probably had no detailed personal knowledge of Northern Virginia, so I don't know if he rode the ground himself, copied it from another map, or drew it with help from someone who knew the area.
On the march in Maryland in mid-September, he produced this comprehensive map of the theater of operations and beyond. Again, his source is unknown, but it's a pretty fair representation.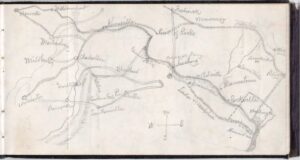 Finally, here's an example of simple sketch-map, of which there are several in the notebook, probably drawn for a specific tactical purpose. This one shows the major points along the Hagerstown Pike between Hagerstown and Sharpsburg. It's oriented with South at the top – laid out like a more recent AAA strip map – for someone going from Hagerstown to Sharpsburg. He's put the "Tunker's" (Dunker/Dunkard) Church on the map and noted its distance from town as one mile, which is about right.
Other illuminating pages in his notebook include this one. I call it "the School of the Staff Officer." He's made a list of functions or tasks he and others of the General's staff need to perform. This would have been routine for a West Point trained officer, but Richard was not one of those.
It reads as though he got it from a book, but there were also plenty of West Pointers nearby as potential sources.
When directed to arrange for ammunition for the batteries of the division from the supply train, he made a note of quantities for each gun type (3 inch, 10 pounder, 12 pounder) and  how many rounds for each should be case (S.C. = spherical case), shell, and canister. It was important to get that right.
Here's a hint of an intelligence role – determining who the enemy nearby is. Of course I could be reading more into this than is actually there:
On 18 September at Antietam the Division Headquarters was near where men of the 10th Maine Infantry had charged the Confederates the day before. Shannon observed the men of that regiment burying their comrades on the field, and made note of the names he found on their "rough" headboards:
He listed 16 names and I know of 17 men killed outright at Antietam, so he was fairly complete.
Lastly, here's the first of a two page list of Confederate soldiers left behind in hospitals at Sharpsburg and captured on 19 September 1862. Shannon was assigned the task of paroling them, I think, and made something of an inventory.
I have more work to do later to make sure I've got them all into the AotW database.
______________
Notes
Richard Cutts Shannon had a heck of a life after the war, too. He was a diplomat, ran a railroad in Brazil, went to law school about age 45, and was twice elected to the US Congress.
Lieutenant Shannon's picture is from a photograph in the Colby College collection, online from the Maine Historical Society.
His notebook of 30 August to 8 November 1862, highlighted here, is online among 3 volumes thanks to the Digital Maine Repository. The other two are rather more typical narrative diaries in a larger bound-book format, without the sketches and extra notes, and cover January – September 1862 and September 1863-January 1865.